Crazy title, right? All because Cyberdesert signed up for the Preacher's Institute (30) 40 day blogging challenge – where you are given an example topic each day. This is today's topic.  When I saw first saw it I was tempted to rant in a mock ethnic accent, Hyperdox Herman style: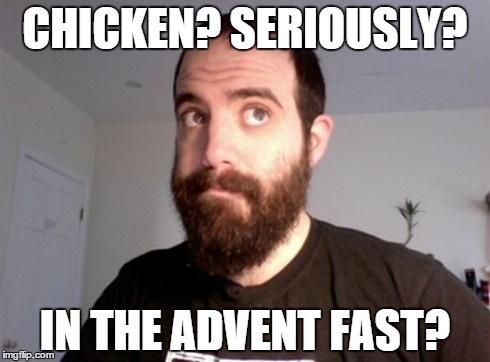 And continue – "This is the Cyberdesert – there are no chickens in the desert!" Apparently, there are no female animals on Mount Athos, either.  I'm not entirely sure how far this extends. An Athonite aquaintance did once tell me that there certainly seemed to be lots of female mice, for which, I believe they use the services of cats (of both genders, I hear). Certainly, there are no domesticated female mammals, and I'm not entirely sure about chickens. Their eggs are necessary for icon painters, and one wonders where the Athonites in past centuries would have got their supply of eggs from before the advent of modern transport methods. [If you know the answer – feel free to comment below].
I have spent the past two days at the Metropolitan Anthony of Sourozh Centenary Conference, filled with a wonderful richness, diversity and wealth of interesting speakers and topics. It provided real food for thought, which I am still digesting, but certainly  I will feed back on the conference in the near future. This means that the last few days were long, and blogging time is short. Today's blog post, therefore. is a light-hearted and somewhat superficial one.
However, just one brief observation, Metropolitan John (Zizioulas) of Pergamon's talk at the conference today was titled 'Man as Priest of Creation: Insights from Metropolitan Anthony's Thought' marrying Metropolitan Anthony's teachings on Creation with his own views on ecology. This could possibly relate to "The Mighty Chicken" as set out by Fr. John Peck when he gave the blogging challenge topic,  and noted the usefulness of our domesticated fowl. 
One of the questions Metropolitan John explored was are we proprieters or priests of creation? Here are some ideas taken from previous work on this idea found in the book, Living Orthodoxy in the Modern World. 
"The priest is the one who takes in his hands the world to refer it to God and who, in return brings God's blessing to what he refers to God. Through this act creation is brought into communion with God himself. […] This role of the human being as the priest of creation, is absolutely necessary for creation itself, because without this reference of creation to God the whole created universe will die."
What does this mean for our chicken? More importantly, what does it mean for us?
Metropolitan John states that
"1. The understanding of the human being as priest rather than steward of creation means that the role of man in creation is neither passive (conservationist) nor managerial, i.e. 'economic' […] The human being is related to nature not functionally, as the idea of stewardship would suggest, but ontologically: by being the steward of creation the human being relates to nature by what he does, whereas by being the priest of creation he relates to nature by what he is."
"2. The idea of priest of creation gives to ecology a cultural dimension. […]" by culture he means "the elevation of an otherwise transitory and ephemeral entity to something of lasting and even eternal value. When an artist creates, he or she wishes to bring about something of eternal value and significance. The priest is in this sense an artist: he takes the material world in his hands (the bread and the wine, for example, in the case of the Eucharist, which are perishable by nature) and lifts it up to acquire eternal divine meaning."
Thirdly, "Nature must be improved through human intervention; it is not to be preserved as it is."
What does this mean?
Basically, it seems to be saying that problems of ecology and our environment can't be solved by a set of ethics and impersonal principles. Instead, we need to develop a natural way of life based on relationships with one another, with the material world, and with God. We are given creation and we offer it back up to God, developed as a gift.
And for our chicken?
It seems this calls for a humane treatment of our chicken, and even a transformative one. For example, we use the chickens eggs to paint icons, we use its feathers, we eat its meat. But should we all be vegetarians? In the questions, Metropolitan Zizioulas made the point that unavoidably our bodily survival does rely on killing, or taking life, whether it is of an animal or a vegetable. In our fallen state, death is within our very being, as soon as we are born, we have death within us (starting physically when we reach the age of reproduction). It is unavoidable in our fallen world.
However, we are called to redeem this fallen world as co-workers with God. The question is whether we treat the world as a sacred gift or as raw material for exploitation and use. It seems that Zizioulas argues that for the former, the sacramental approach, valuing our world as a gift to offer back up in gratitude to God.
However grateful, remember, just don't count your chickens before they have hatched!
Others doing the challenge – do take a look:
KOINONIA, BY FR. GREGORY JENSEN
EVLOGEITE, BY FR. JAMES BLOMELEY
DEVSHIRME, BY FR. GREGORY CHRISTAKOS
BANMARTRE, BY BRYAN MICHAEL MAES